About Us
Who are we?
Established in 1985, our company has been in the ceramic business for over 23 years. We are manufacture and exporter with the line of ceramic and porcelain tableware & metal ware; mainly for table top or gift and promotional markets.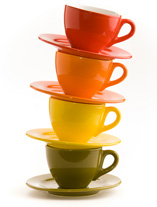 Our manager Charles Chang is dedicated to offer our customers best services & quality products with competitive prices; based on this company philosophy, our staff from both Taipei office and Shanghai liaison office are ready to help you regarding all kinds of enquiry. So we guarantee all of our customers will be served promptly and individually.
We are good at doing customer design, special packing requirement, delivery request, etc., we try to meet every customer's special need for a close and long relationship and mutually beneficiary cooperation.
Write us today for more information & latest catalogs, or visit our showroom to view our more than 10 thousands of items displayed. If you still can not find the right item from our catalog, just give us an idea, we will make it possible for you.
We look forward to serving your inquiry, with a happy cooperation with you!
News Headlines